Super Finish to Friday's Allstar Matchup!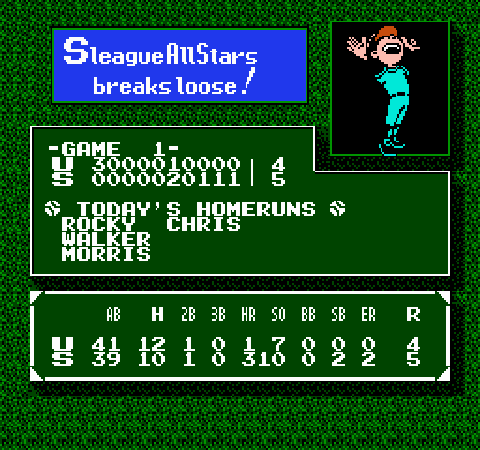 This Friday's Allstar had the look of a blowout with 3 first inning runs by team Ultra. But it ended much different than it started as Davey's Super team inched their way back into the game before Chris delivered the final blow in extra innings. Dominant pitching kept offense to a minimum after Rocky's first inning 3-run homer for team Ultra. While Ultra's strikeout count kept mounting, so did their pitch count, and a couple bad pitches made the difference in the contest.
The tense matchup climaxed in the bottom of the ninth with two out and a runner on second. What should have been a routine flyball to left field, turned into an RBI single, tying the game for Super. Sluggish leftfielder Rocky, turned from hero to zero in this match, failing to flag down the flyball in left-center. "Hey, on a scale of 1-8, I'm about a 3 when it comes to running speed. There was just no way I was going to get that ball." Asked why he uses a scale of 1-8 instead of 1-10, Rocky stormed out of the locker room, visibly upset by today's loss.

Davey: Wins by 1 run ($0.25 + $0.05), 5 K's ($0.25), 3 HRs ($0.15) = $0.70
Tim: 10 K's ($1.00), 1 HR ($0.05) = $1.05
Total: Davey owes Tim $0.35
Lifetime: Tim owes Davey $2.50
Series Lifetime: Tim 2, Davey 4
K's Lifetime: Tim: 23, Davey 37
HR Lifetime: Tim 8, Davey 12
Tags: game